Botero ® - Meiafone hybrid tea rose
Botero ® - Meiafone
Very double blooms, red, compact and full, bringing to mind the characters painted and sculpted by the great colombian artist to whom this rose has been dedicated.
Blooms generously in season with big cupped flowers of about 13cm in diameter. Grows upright to a height of more than a meter and with up to three cherry-red blooms per stem. Can be used as cut flower, pot grown or in flowerbeds.
The intense fragrance of this rose has made it win several awards: Perfume Cup in Geneve, Perfume Award in Saverne and Madrid, Bronze Medal in Rome and Perfume Grand Prix in Nantes.
Rose name
Breeder
Description
Botero ® - Meiafone
Meilland
Botero is a rose hybridized by Meilland, with beautiful colours and a captivating fragrance.
Price
Weight

13,20

€

2,5 kg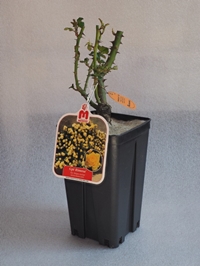 vaso 2,4 Litri
They may also be interested: