Cherry Explosion® - Baisikomik
Cherry Explosion® - Baisikomik
The double cup-shaped flower, with a 9 cm diameter, consists of 35 twirling, bright petals, showcasing shades ranging from maraschino red to coral pink; delicately fragrant and highly reblooming.
It grows vigorously but not invasively, reaching heights of up to 300 cm and widths of up to 400 cm (properly trained, it can cover an area of nearly 12 square meters).
Its flexible branches are easy to guide, and it boasts healthy, glossy dark green foliage with excellent disease resistance.

This climbing rose can also be cultivated as a large shrub without support and is easily integrated into mixed flower beds or a mixed hedge. A 2023 novelty from breeder Meilland Richardier, suitable for both cut flowers and container gardening.
Rose name
Breeder
Description
Cherry Explosion® - Baisikomik
Meilland
Twirling red cherry rose climber, delicately fragrant, highly reblooming, and healthy.
Price
Weight

13,70

€

2,5 kg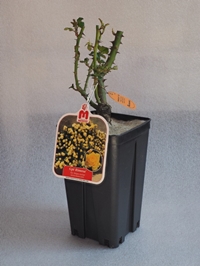 vaso 2,4 Litri
They may also be interested: