A Whiter Shade of Pale - Hybrid Tea Rose
A Whiter Shade of Pale
The rose A Whiter shade of pale is a Hybrid Tea rose selected by Colin A. Pearce in 2006.
It is a white coloured rose with a flower that has a central soft shade of pink; it has a large, thick flower with usually 17 to 25 petals. This is a cup-shaped rose with an intense scent that is well suited to give gardens a nice fragrance. It is a variety that can usually grow up to 100-120 cm; it has a vigorous growth that gives it great resistance to disease.
It has a bushy habit with plentiful glossy, dark green leaves. This rose is well suited as a cut flower.
Rose name
Breeder
Description
A Whiter Shade of Pale
Pearce
The rose A Whiter Shade of Pale, of the hybridizer Pearce, is a white coloured rose, with pale shades of pink and with an intense scent. Very resistant to diseases.
Price
Weight

12,90

€

2,5 kg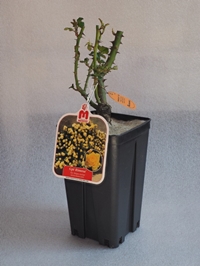 vaso 2,4 Litri
They may also be interested: