Agnes Schillinger ® hybrid tea rose
Agnes Schillinger ®
Rose with a sophisticated look, the flower opens in big blooms of a pink to lilac colour, it has a fruity fragrance with scents of ginger and cinnamon, excellent for bouquets.
The plant is vigorous and blooms repeatedly, asking only to be planted in a special place in the garden to appreciate its unique fragrance.
Reaches a height of about a meter, with flowers suited to be cut. Can be pot grown.
Rose name
Breeder
Description
Agnes Schillinger ®
Guillot
The Agnes Schillinger is a Hybrid Tea rose very special indeed, for the beauty of its flower but even more for its fruity fragrance.
Price
Weight

12,90

€

2,5 kg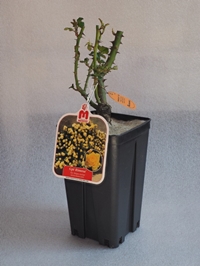 vaso 2,4 Litri
They may also be interested: