Donatella ® Meikenra hybrid tea rose
Donatella ® Meikenra
Rose with big flowers (12cm in diameter) formed by about 60 petals in a quartered form, slightly resembling peonies.
The blooms are of a light pink and luminous colour, the foliage is dark green and glossy.
The plant grows to a height of 80-120cm, blooming continuously throughout the season and displaying a single flower per stem.
Excellent disease resistance and a strong scent of May rose, can be used in many ways.
This rose has won many awards in Europe including the Gold Medal in Baden-Baden, The Hauge and Rome, and the Fragrance Award in Rouelx.
Rose name
Breeder
Description
Donatella ® Meikenra
Meilland
Beautiful rose with a light pink colour: a perfect gift for the ladies.
Price
Weight

12,90

€

2,5 kg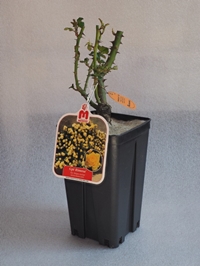 vaso 2,4 Litri
They may also be interested: