Bolshoï ® - Meizuzes hybrid tea rose
Bolshoï ® - Meizuzes
Meilland gave this rose the definition of "fireworks in the garden" because of the many streaks and hues of its blooms.
The Bolshoi has 45 petals of fascinating hues of red and yellow on a reflexed bloom form.
The plant grows up to 70-80cm in height, with one or two big flowers per stem, that exhale a subtle fragrance of May rose.
Rose name
Breeder
Description
Bolshoï ® - Meizuzes
Meilland
The beauty of the Bolshoi rose, a Meilland variety, is in the gold-yellow and red of its blooms, suitable for any garden.
Price
Weight

12,90

€

2,5 kg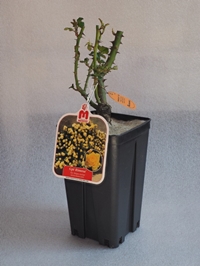 vaso 2,4 Litri
They may also be interested: