Erotika ® hybrid tea rose
Erotika ®
A rose that grows upright to a height of 100-120cm with long stems on which blossom slender buds. The flowers are big (11cm in diameter) classic and old-fashioned, with an elegant, dark-red colour.
Highly disease and frost resistant, the scent is subtle with a typical rose fragrance.
Excellent as cut-flower due to the length of the stems, it is also well suited to be grown in small groups or for fragrant gardens.
Rose name
Breeder
Description
Erotika ®
Tantau Rosen
The Erotika has long and upright stems with dark-red blooms, excellent for cutting.
Price
Weight

12,90

€

2,5 kg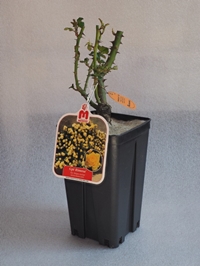 vaso 2,4 Litri
They may also be interested: