Frederic Mistral ® Meitebros hybrid tea rose
Frederic Mistral ® Meitebros
This rose has a unique venetian-pink colour, with up to 5 blooms per stem. The flowers are medium sized (9 cm in diameter) and with an elegant cupped form, spiralled and with 45 petals.
The plant grows to a height of 90-100 cm, blooms continuously and generously throughout the season and has an excellent resistance to diseases.
Suitable for all uses, the Frederic Mistral, thanks to its strong, fruity fragrance, has achieved the Fragrance Award in Monza and in Le Roeulx in 1994, the Most Fragrant Rose Award in Belfast in 1994 and the Fragrance Prize in Baden Baden in 1993.
Rose name
Breeder
Description
Frederic Mistral ® Meitebros
Meilland
Famous in all Europe, the Frederic Mistral is easily recognizable thanks to its glowing, pink blooms and the perfect shape of the petals.
Price
Weight

12,90

€

2,5 kg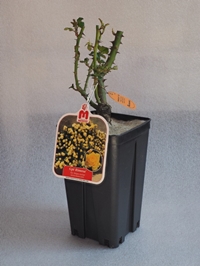 vaso 2,4 Litri
They may also be interested: