Line Renaud ® - Meiclusif hybrid tea rose
Line Renaud ® - Meiclusif
Rose that blooms generously and is highly disease-resistant, with a fuchsia-red, deep pink colour and a strong fragrance.
The Line Renaud is the result of Meilland's continuous research for the perfect rose: resistance, blooming and scent are perfectly balanced in this variety.
The blooms are big (13 cm in diameter) and with 35 petals that exhale a strong and spicy citrus fragrance. Blooms generously throughout the season and has an excellent disease-resistance. Grows to a height of 120 cm and a spread of 70 cm.
It has achieved 13 awards, including the Fragrance Award in Bagatelle and Orléans, Golden Medal in Buenos Aires and Le Roeulx where it also won the first prize as most scented rose, and is also included in the list of roses with an ADR certificate.
Rose name
Breeder
Description
Line Renaud ® - Meiclusif
Meilland
Discover with us the qualities of Line Renaud, an outstanding rose with large and deeply fragrant blooms.
Price
Weight

12,90

€

2,5 kg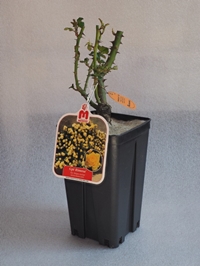 vaso 2,4 Litri
They may also be interested: