Banzai ® - Meiquitos hybrid tea rose
Banzai ® - Meiquitos
The name and the deep yellow colour of this rose bring to mind the Land of the Rising Sun; a traditional and hardy rose that is sought after by yellow-rose lovers.
Big full flowers (10cm of diameter) with 30-35 petals, growing upright to a height of 80-90cm. Traditional rose, appreciated for both its intense yellow colour and for its disease resistance.
Blossoms throughout the season, suitable for flowerbeds and as a cut flower.
Rose name
Breeder
Description
Banzai ® - Meiquitos
Meilland
For yellow-rose lovers, a highly appreciated rose.
Price
Weight

12,90

€

2,5 kg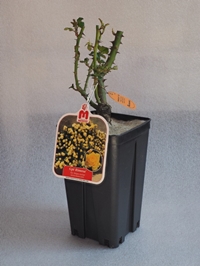 vaso 2,4 Litri
They may also be interested: