The Lady of the Lake® AUSherbert
The Lady of the Lake® AUSherbert
Graceful semi-double flower of 5 cm in diameter, borne in clusters on long, flexible and thin stems.
The color is pale pink with yellow stamens; the fragrance is moderate.
Remontant; it has good disease resistance. It grows up to 4m in height; it is ideal for covering pergolas, arches and along fences. Healthy, bronze-green foliage, suitable for cultivation in semi-shade.
It was introduced by David Austin Roses in 2014 and is named after the ruler of Avalon in Arthurian legend.
Rose name
Breeder
Description
The Lady of the Lake® AUSherbert
David Austin
Gorgeous pale pink climbing English rose, repeat-flowering, fragrant and shade tolerant.
Price
Weight

16,70

€

2,5 kg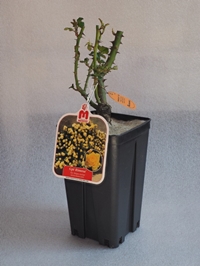 vaso 2,4 Litri
They may also be interested: