Villa Borghese® Zanviborg
Villa Borghese® Zanviborg
Small, double, pom-pom flower, 4 cm in diameter with scented cream-white petals. Noisette hybrid, remontant and witha huge amount of blooms, it has excellent adaptability to drought and intense heat, excellent resistance to diseases. It grows up to 900cm in height and 500cm in width; matte dark green foliage with almost thornless branches.
Selected by Rolando Zandri, it was presented by the Novaspina company in 2015, the year in which it won the gold medal for best climber at the international competition in Barcelona.
Dedicated to the monumental complex in the green heart of Rome, it had as godmother Cristina Comencini, Roman director and writer who was one of the founders of the SNOQ association as she is very attentive to women's issues.
Rose name
Breeder
Description
Villa Borghese® Zanviborg
Zandri
White noisette rose with abundant flowering, fragrant and disease resistant.
Price
Weight

15,00

€

2,5 kg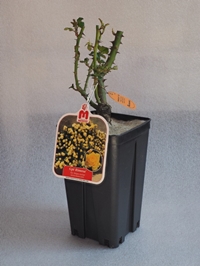 vaso 2,4 Litri
They may also be interested: